Leadership and Staff
Leadership and Staff
We're proud to have an outstanding team of lay leaders and professionals guiding our congregation as we pursue our mission. To contact any of our staff, please call our main office at (323) 606-0996 and use the extensions below. You may also click any name to send an email.
Clergy
Rabbi Barry Lutz
(They/Them)
(she/her)
[On sabbatical]

Staff
Yanir Dekel
(he/him)
Music Director
/Accompanist
Lisa Edwards
(she/her)
Custodian
Hugo Reyes
(He/Him)
Board of Trustees
Rebecca Shurz
Co-President (she/her)
I wish to stand for election as Co-President of Kol Ami with Leonard Slutsky. I've been an engaged member at Kol Ami for 6 years and on the Board of Trustees for 4 years, serving alongside Leonard. Kol Ami is going through significant changes and facing financial challenges. At the same time, there is much to celebrate in our diverse community, and I see this time as being full of opportunities for our congregation to shape what we want Kol Ami to be in the future. In leadership roles both at work and in volunteering, I have experience delivering projects and initiatives in conditions of uncertainty. I will be honored to lead our talented Board of Trustees alongside Leonard and to engage with our congregation to shape our direction for the next few years.
Leonard Slutsky
Co-President (he/him)
I am honored to be Co-President of our congregation. Kol Ami has been a special place for my boyfriend Evin Rolens and me for the past five years. I serve on the synagogue's executive committee and the Open Yad Project leadership council. This coming year is a tremendous opportunity for us to imagine the next 30 years of Kol Ami, building upon the strong community and foundation that Rabbi Eger has built. There is a strong need for a place that celebrates LGBTQ+ Jewish life and is a safe place for Jews of Color, interfaith couples, and people who are exploring or have chosen Judaism. I have enjoyed getting to know many temple members and learning about what Kol Ami means to them, and I feel inspired to help co-create the next chapter of our community. We can't do this alone, so I hope you'll consider volunteering in some way over the next year. Outside of Kol Ami, you can find me catching a show at the Hollywood Bowl or Pantages, volunteering for The Trevor Project, or playing with my dog Chompers. I recently graduated with my Master of Public Administration degree from USC.
Marilyn Ader (she/her)
I am one of the founding members of Congregation Kol Ami. I am a scientist by training and currently hold the position of Associate Director of the Diabetes and Obesity Research Institute at Cedars-Sinai. During the first 30 years or our temple, I have had the honor of serving on its Board of Trustees and Executive Committee, and I have actively participated in many of its committees, including Ritual, Membership, Budget/Finance, and Development. Through this involvement, and with the guidance of my temple community and learned teachers such as Rabbi Eger, I have grown comfortable with my Judaism and the Jewish ethical and moral principles which guide my life. I am proud of all that Kol Ami has done for its members and its community near and far, and I am proud to have helped get us to this moment. Now we are about to enter a new phase in the life of our temple. With the retirement of Rabbi Eger, Kol Ami will need to navigate some uncharted waters, and this uncertainty can be challenging. I believe the broad experience from my past years of service to our congregation may be of value as our community moves forward into its next 30 years. I humbly offer myself to be considered for the position of At-Large Member of the Board of Trustees.
Matthew Adler (he/him)
Matt has been part of the Kol Ami community for six years and a board member for one. Matt's family joined Kol Ami when it was time to start Sunday School. Matt is a native Angeleno and went to school at Pitzer College. He works in the insurance industry and has done so almost long enough that his first job was at Lloyds when it was just a coffee house. He currently works for AXA XL Insurance as a Large Loss Specialist. Matt is also on the board of the Westside JCC.
B. Daniel Blatt (he/him)
I have been a member of Congregation Kol Ami for almost seventeen years now, joining just after the High Holy Days in 2006. That was a challenging year for me, and Rabbi Denise Eger provided the comfort and counseling I then needed—while the shul provided a community of support. Through the shul, I learned about Jewish Big Brothers and have been a Big Brother to a fatherless Jewish boy for nine years. I have volunteered for nearly twenty summers as a Theater Manager at Outfest, an LGBT film festival. As Kol Ami moves to a new era with the search for a new rabbi, I hope to help our shul navigates the challenges ahead and find a path forward so that it remains a strong and vibrant community and a second home for some many Jewish Angelenos of so many diverse backgrounds.
Marc Cohen (he/him)
I have been a member of Congregation Kol Ami for 15 years. My husband and I raised three children in the temple—the youngest of whom just made Bar Mitzvah—and so my attachment runs deep. I am a longtime civil servant, having worked for over 20 years with the U.S. Army Corps of Engineers. Besides my current interim Board membership, I have served on the boards of other non-profit organizations. In seeking a full term on the Board, I want to be a part of this momentous time of transition in our temple. I have experience in bringing about organizational change, and in building collaboration and leadership to achieve positive outcomes. Our Kol Ami community has had an extraordinary first 30 years, and I'm excited to be a part of taking us into the future.
Eric Isenhower (he/him)
I have been active with Congregation Kol Ami since 2018 and a proud member since 2019. During that time, I have been first a member of, and then a leader of the Open Yad Project which serves the young-adult community at Kol Ami. I have also been an active participant in our last 4 Purim Spiels, either as a performer or behind the scenes. Additionally, I successfully hosted our 3 most recent annual galas, both virtually and in person. Most recently I was proud to serve on the search committee that successfully found and nominated Rabbi Barry Lutz for the position of interim rabbi. Over the years I have come to treasure this community, whose clergy and congregants alike have made me feel fully at home in our progressive, celebratory, and groundbreaking synagogue. It is my sincere hope to be afforded this opportunity to give back to our sacred community, which has given so much to me. I hope to provide what support, perspective, and guidance I may to help steer our beloved synagogue forward into its next chapter.
Our community means so much to me, as does every one of our members. I regularly attend Shabbat Services, love the camaraderie at our volunteer Lunch Bag Assembly afternoons for the Hollywood Food Coalition, enjoy participating in Purim Shpiels, and was on this year's Gala Team.
My vision for the Kol Ami community is that every member feels at home here and feels valued. We all have so much to offer to keep our community strong in the future. I have many community-building program ideas for us going forward and hope that they attract some former members to return as well.
I was one of the original founding members of Congregation Kol Ami and served as a Member of the Board in the Board's first term. Kol Ami has been a very meaningful part of my life and is where my husband and daughter were converted to Judaism, where my daughter had her bat mitzvah, and where recently a Memorial Service was held for my late husband. I know the importance of continued support and inclusion that Kol Ami provides its congregants and the greater community. My goal as Board Member is to support efforts to keep Kol Ami as a vibrant congregation, with amazing clergy and services. I fully support a transparent and fiscally responsible Board. I understand the Board will have a challenging job in this time of transition, I am committed to doing my share to sustain Congregation Kol Ami.
I would be honored to continue to serve on the Board of Trustees of Congregation Kol Ami. I have been a Kol Ami member for over 20 years. I believe the connection between our faith and what's happening in the world and how we are called to contribute to making a better, more just world is the core of my Jewishness and my ongoing connection and commitment to Kol Ami. I have learned so much as a member of this community and l look forward to an ongoing opportunity to collaborate and learn together. I have worked for many years as an activist for social justice causes and have served as a board member on several organizations and committees in Los Angeles and nationally. I've been a lecturer on HIV/AIDS as part of the curriculum for USC Health Sciences programs for thirty years. Professionally, I enjoyed a long career in the entertainment industry, as a production manager at Warner Bros and previously at 20th Century Fox, The Walt Disney Studios, and ABC-TV.
Murray Levin
Treasurer
(he/him)
Hon. William
Weinberger
(he/him)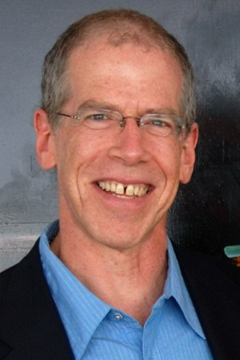 Shawn Aleshia (Yaffa) Hughes
(she/her)
Past Presidents and Honorary Trustees
We also extend our gratitude to all of the past presidents of our congregation, as well as our honorary life trustees.

Presidents Emeriti
John Altschul
Roberta Bennett
Cary Davidson
Wendy G. Glenn
Sheryl L. Gold
David Kaminski
Stuart Leviton
David R. Levy
Marianne Lowenthal
Loren S. Ostrow
William Weinberger
Stephen H. Weiss
Peter Mackler

Honorary Life Trustees
Mason Sommers
Wed, October 4 2023
19 Tishrei 5784
Congregation Kol Ami uses J License for all the Jewish music in worship and programs.
Wed, October 4 2023 19 Tishrei 5784